Product Sustainability Framewok​ – vastuullisuuskriteeristön esittely
September 14 @ 15:00

-

16:00

Free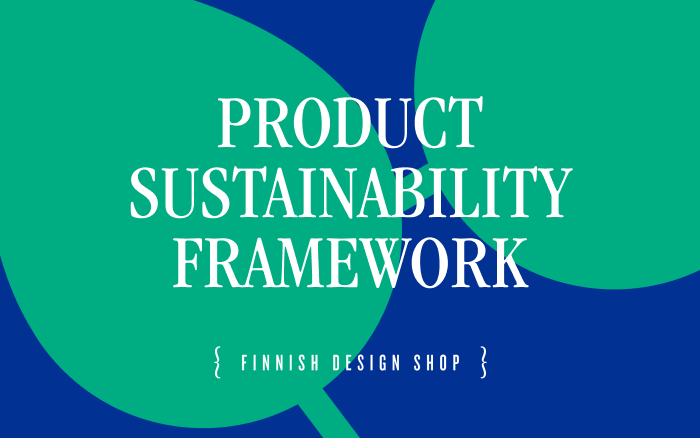 Kestävään kehitykseen ja vastuullisuuteen liittyvät kysymykset ovat viime vuosina saaneet entistäkin enemmän jalansijaa designmaailmassa. Kauniista sanoista ja hyvistä aikeista huolimatta alalla riittää kuitenkin vielä työnsarkaa. Konkreettisia tekoja ovat peräänkuuluttaneet paitsi tietoiset kuluttajat myös sisustusarkkitehdit, designin parissa työskentelevät suunnittelijat ja sisäänostajat. Vastauksena näihin tarpeisiin kehitimme Product Sustainability Frameworkin – kattavan arviointityökalun, jonka avulla pystymme arvioimaan jokaisen verkkokaupassamme myytävän tuotteen vastuullisuuden.
Product Sustainability Frameworkin avulla jokainen Finnish Design Shopin verkkokaupassa myytävä tuote saa vastuullisuusarvosanan. Arvosana perustuu tuotteen arviointiin vastuullisuuskategorioissa, jotka koskevat tuotteen koko arvoketjua aina ympäristövaikutuksista kiertotalouden periaatteisiin sekä työoloihin ja palkkaukseen.
Product Sustainability Frameworkista kertovat lisää Finnish Design Shopin operatiivinen johtaja Reetta Noukka ja vastuullisuuskoordinaattori Aino Hieta. Esittelyä seuraa Anu Ubaudin moderoima paneelikeskustelu, johon osallistuvat Artekin managing director Marianne Goebl, ruotsalainen muotoilija Fredrik Paulsen, Nikarin ja Woodnotesin toimitusjohtaja Johanna Vuorio, suunnittelutoimisto Fyran toimitusjohtaja ja perustajajäsen Hanna Neuvo sekä Finnish Design Shopin operatiivinen johtaja Reetta Noukka.
Helsinki Design Week, Pursimiehenkatu 29. Helsinki, 6th floor 
……………………………………………………………………………………..
We invite you to join us at the Launch Event of the Product Sustainability Framework
during Helsinki Design Week on Thursday, September 14.
The Launch Events take place at Helsinki Design Week's main exhibition space in Merikortteli and are divided into a private morning session accompanied by some breakfast, and to an open afternoon session served with a glass of wine, on Thursday, September 14.
The two events both start with a keynote and an introduction to the Product Sustainability Framework by Finnish Design Shop's COO Reetta Noukka and Sustainability Coordinator Aino Hieta, followed by a panel discussion with international guests and prominent domestic figures in the field of design.
Joining the discussion moderated by Anu Ubaud from United Imaginations are Artek's Managing Director Marianne Goebl, Swedish designer Fredrik Paulsen, CEO of Nikari and Woodnotes Johanna Vuorio, Design Agency Fyra's CEO & Co-Founder Hanna Neuvo, and Finnish Design Shop's COO Reetta Noukka.
Please see times below and RSVP for the session best suited for your schedule. Please note that we have a limited capacity for each one of the events. We look forward to seeing you!
What: Finnish Design Shop Presents The Product Sustainability Framework 
Date: 14.9.2023 
Time: 10.00–11.00 & 15.00–16.00 
Place: Helsinki Design Week Main Venue, Pursimiehenkatu 29. Helsinki, 6th floor